| Item ID | Starting Bid | Bids | Current Bid |
| --- | --- | --- | --- |
| 21863 | $50.00 | 13 | $850.00 |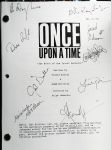 Thanks to the amazing generosity of ABC's Once Upon A Time production office we have an original signed script for Season 3, Episode 1 "The Heart of the Truest Believer" up for auction.
Season 3 of Once Upon A Time is quite dear to us affiliated with the St. Stephen Children's Centre as the main fundraiser for St. Stephen's is an annual pirate-themed Halloween yard display and Season 3 is of course the Neverland season. Captain Hook not only proved himself to be an honourable pirate that season but also in real life as the actor Colin O'Donoghue, who plays Hook, was the first of the cast to bring wider attention to our cause last year by tweeting about the event. We of course then had to move his tribute from the pirate graveyard of dishonourable pirates to the shrine of honourable pirates.
On to the details of the script.
As mentioned, it is an original 51 page script with the cover signed by 9 of the main cast members;
Robert Carlyle
Josh Dallas
Ginnifer Goodwin
Jennifer Morrison
Lana Parrilla
Emilie de Ravin
Jared Gilmore
Michael Raymond-James
and Hook himself, Colin O'Donoghue
Details to get free shipping; item will be shipped standard mail in a bubble envelope with 2 cardboard sheets for stability for free if within North America. If you wish larger, more protected packaging, insurance, and/or faster shipping and/or you're outside of North America, then please contact us for cost.
Item Added: Sun Oct 26, 2014 11:51 AM